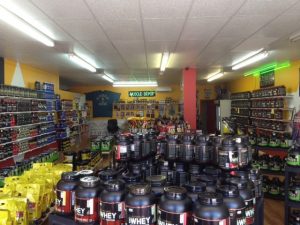 Muscle Depot has been at the heart of Montreal's health and fitness community for years. Its new administration is focused on bringing you the widest and best selection of products to enhance your nutrition, your training,  health and your life. We have the knowledge and expertise to help you make the best choice of supplement. Whether it's dietary supplements, vitamins, fat burners, proteins or creatines, we have useful information and great prices for you.
Come visit Jason and Curt Myers for all your supplement needs!
Muscle Depot a été au coeur de la communauté de mise en forme et de santé de Montréal depuis des années. Sa nouvelle administration est dédiée à vous procurer la plus vaste et la meilleure sélection de produits pour améliorer votre nutrition, votre entraînement, votre santé et votre vie. Nous avons la connaissance et l'expertise pour vous aider à faire le meilleur choix de supplément, quel que soit votre besoin: que ce soit supplément diètétique, vitamines, brûleurs de graisses, protéines ou créatines, nous avons de l'information utile et de bons prix pour vous. Venez rencontrer Jason et Curt Myers pour tous vous besoins en suppléments!